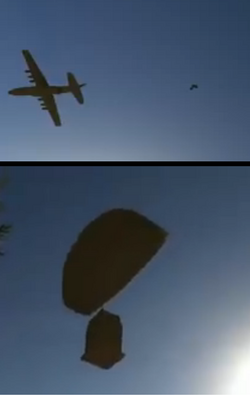 Airdrops are events which will cause a plane to fly over the map and drop a crate containing various supplies. These supplies are dropped in a large green container which will slowly parachute to the ground.
Some of the most valuable items in the game can be obtained from this event. You will hear a loud noise of a passing plane when the event starts, and a red light can be seen blinking on the bottom of the plane by nearby players.
This event can happen around once an hour, but can also be activated by the host of a server, or by using a Supply Signal, which can rarely spawn in military crates.
The plane which supplies these Airdrops is a variant of the C-130.
The Airdrop chest can be looted while still in the air, as soon as it can be reached. Other players will almost certainly be vying for the Airdrop loot. Even if you can't spot any other players in your direct area, you might be in someone's line of sight. Snap Traps and Land Mines from the drop itself may be used to booby-trap the drop site, on low population servers, but it is most likely that there will be a firefight, or one player will grab the loot and run.
Supplies Found
Edit
A list of items occasionally found in Supply Drops:
* Mace

Should you find any other items in Supply Drops, feel free to add them to the list.
Changes:
Edit
3/21/17: removed pump jack from item list (seriously guys, it's been a year since they were made monument exclusive, step it up.)
25/5/17: Removed Wood Armor from item list (Doesn't have it's own fandom page while Wood Chestplate And Wood Armor Pants do, So I added them and removed the Wood Armor)
Ad blocker interference detected!
Wikia is a free-to-use site that makes money from advertising. We have a modified experience for viewers using ad blockers

Wikia is not accessible if you've made further modifications. Remove the custom ad blocker rule(s) and the page will load as expected.