Bolt Action Rifle

Type
Ranged Weapon

Weapon Stats

Single-fire
Damage
60-70
Recoil
14
Range
250
Ammunition
5.56 rifle ammo
Capacity
3

Crafting

Craftable
Yes
Known by default
No
Ingredients

Description

A single-fire rifle with high damage and range.




The Bolt Action Rifle was one of the strongest and rarest weapons in the game. It used 556 Ammo and could fire three times before needing a full reload. It was primary used as a sniper rifle due to it's effectiveness at long range combat. It's effectiveness at long range could also be improved by adding a Holographic Sight and/or a Silencer. However, Silencers were known to decrease the range of the rifle.
The Bolt Action Rifle was great for raids, as one could have a teammate position themselves on a hill or rock and provide overwatch and covering fire on the targeted base. It took one shot to the head or two to the chest to kill a player regardless of what Armor they were wearing.
Acquisition
Edit
The Bolt Action Rifle could be found in Loot Crates.
It could also be crafted at a Workbench after using a Research Kit on the Bolt Action Rifle:
It took 60 seconds to craft.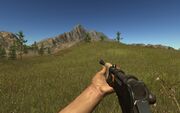 Ad blocker interference detected!
Wikia is a free-to-use site that makes money from advertising. We have a modified experience for viewers using ad blockers

Wikia is not accessible if you've made further modifications. Remove the custom ad blocker rule(s) and the page will load as expected.