Burlap Headwrap
A Headwrap made out of burlap.

General

Shortname
burlap.headwrap
Type
Attire
Stacksize
1
Equipment Slot
Head Face

Protection

Crafting

Craftable
Yes
Time To Craft
30 s

Ingredients
—Information accurate as of: build 904.83
The Burlap Headwrap is a piece of clothing that slightly protects the wearer from various kinds of damage. It is worn on the head, and is a good starter item to wear until better attire is acquired.
Crafting
Edit
The Headwrap can be crafted with:
Notes:
It takes 30 seconds to craft one Headwrap.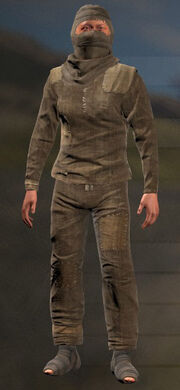 Ad blocker interference detected!
Wikia is a free-to-use site that makes money from advertising. We have a modified experience for viewers using ad blockers

Wikia is not accessible if you've made further modifications. Remove the custom ad blocker rule(s) and the page will load as expected.