Burlap Trousers
Trousers made out of burlap.

General

Shortname
burlap.trousers
Type
Attire
Stacksize
1
Equipment Slot
Legs Groin Knees

Protection

Crafting

Craftable
Yes
Time To Craft
30 s

Ingredients
—Information accurate as of: build 904.83
Burlap Trousers are a very basic armor item. The Burlap Trousers are a decent armor piece for new players until they have access to better clothing. Even though Burlap Trousers provide minimal protection against damage, they do help to keep the player warm, and are better than nothing.
Crafting
Edit
The Trousers can be crafted with:
It is reccommened to simply find more cloth and use a Hide Skirt instead, as it has better defense and heat protection then the Burlap Trousers, the Hide Pants, and the Shorts, without costing a Sewing Kit.
Sometimes, there will be a bug when the "Censor Nudity" setting is on. Even when the player is wearing the Burlap Trousers, there is still a censored bar where it would be if the player was naked.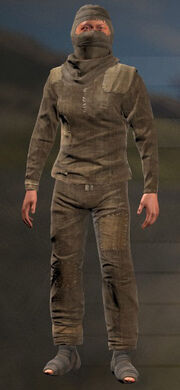 Ad blocker interference detected!
Wikia is a free-to-use site that makes money from advertising. We have a modified experience for viewers using ad blockers

Wikia is not accessible if you've made further modifications. Remove the custom ad blocker rule(s) and the page will load as expected.