Overview
Edit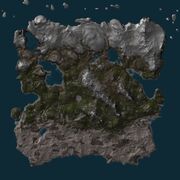 The map is procedurally generated from a seed in the server settings. The size can also be set. A map of a specific seed can be found at Play Rust HQ.
The map is an island with three biomes: snow, grass, and desert.

Pages in category "Maps"
The following 2 pages are in this category, out of 2 total.
Media in category "Maps"
This category contains only the following file.