—Information accurate as of: build 904.83
Ceiling Light
A small ceiling mounted light source.

General

Shortname
ceilinglight
Type
Items
Stacksize
1

Crafting

Craftable
Yes
Time To Craft
30 s

Ingredients

The Ceiling Light is a small light that can be mounted on a ceiling. It is a deployable object that provides light when turned on.
The Ceiling Light is used in similar manner to a Lantern. Before the Ceiling Light can be turned on it needs to be loaded with Low Grade Fuel (since electricity hasn't been implemented into Rust yet). To load fuel into the light or access its storage, mouse over the light and hold the Use button (default "E") and then select "Open". Once the Ceiling Light has fuel, mouse over the light and press the Use button (default "E") to toggle the light on or off. As the light stays on it will gradually burn fuel over time. If it runs out of fuel it will automatically turn off.
Crafting
Edit
The Ceiling Light can be crafted with:
The Ceiling Light emits a downward, white beam of light when turned on.
It would be best recommended to place one of these in rooms with a really high roof since the lighting is very widespread when placed higher.
If you shoot or hit the light, it will actually sway like it would in real life.
The Ceiling Light lasts 10 minutes per each Low Grade Fuel.
You can calculate how long your Ceiling Light will last by using: Amount of LGF / 6 (This will tell you how long it will last in hours)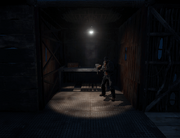 Ad blocker interference detected!
Wikia is a free-to-use site that makes money from advertising. We have a modified experience for viewers using ad blockers

Wikia is not accessible if you've made further modifications. Remove the custom ad blocker rule(s) and the page will load as expected.