The Electric Searchlight is a deployable item that has been implemented in Rust. It works much like a spotlight, and has a more improvised, welded together look. It costs 1000 wood and 400 metal fragments to make.
NOTE: The Savas Island map present in the current Rust has these, but they are static, stationary, indestructible and cannot be controlled by a player.
Item Idea Proposed: Devblog 60, May 14, 2015
Item Model Conceptualized: Devblog 61, May 21, 2015
Item Model Made: Devblog 63, June 4, 2015
Item Implemented: 3/30/17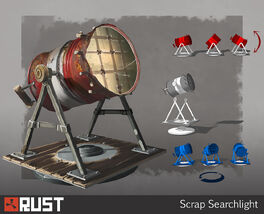 Ad blocker interference detected!
Wikia is a free-to-use site that makes money from advertising. We have a modified experience for viewers using ad blockers

Wikia is not accessible if you've made further modifications. Remove the custom ad blocker rule(s) and the page will load as expected.