—Information accurate as of: build 904.83
This article has a Legacy counterpart.
Click here
to go to the article.
Furnace
A Furnace. Use it to smelt mined ore.

General

Shortname
furnace
Type
Items
Stacksize
1

Crafting

Craftable
Yes
Time To Craft
60 s

Ingredients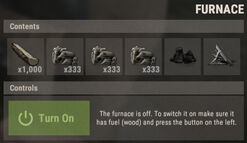 The Furnace is a craftable item that can be used to smelt metals.
The Furnace can be used after it has been crafted and placed. To place the Furnace you must first craft it and move it to your Hotbar, from here you can move it around until the "Ghost Furnace" has turned Blue (Indicating it can be placed) Once the Furnace has been placed it can be operated by a player (Any player can operate it, however only 1 player can use it at a time) and shows an empty 1x6 grid.
To use the Furnace a player must place Wood in it and ignite it.The furnace will burn up to two Wood and create the smelted version of the materials every 30 seconds. Players do not have to be near the Furnace for it to operate, and it will keep burning until it is turned off or it runs out of fuel. A byproduct of the process is Charcoal, which you need to make Gunpowder. Furnaces will smelt each slot simultaneously, so it is more efficient to smelt multiple stacks of ore.
Crafting
Edit
The Furnace can be crafted with:
Notes:
It takes 60 seconds to craft one Furnace.
The furnace has 6 slots
Smelting Rates
Edit
In Rust the conversion rates are usually 1:1.
Wood Burns at a rate of 30 wood per minute, or one wood every 2 seconds.
Food can be cooked in a furnace on some modded servers.
The furnace is destroyable and takes approximately 20 hits with a hatchet to break.
If you want a more efficient, spacious version of the Furnace, check out the Large Furnace.
Ad blocker interference detected!
Wikia is a free-to-use site that makes money from advertising. We have a modified experience for viewers using ad blockers

Wikia is not accessible if you've made further modifications. Remove the custom ad blocker rule(s) and the page will load as expected.