Hide Vest
A Vest made from the hide of an animal.

General

Shortname
attire.hide.vest
Type
Attire
Stacksize
1
Equipment Slot
Chest

Protection

Crafting

Craftable
Yes
Time To Craft
30 s

Ingredients
—Information accurate as of: build 904.83
The Hide Vest is a vest made from the hide of an animal. It is a very early-game piece of clothing and provides basic protection against the elements. While it doesn't cover as much of the body and has less cold protection versus the Burlap Shirt, it provides more protection against most other sources of damage (such as stab damage).
Crafting
Edit
The Hide Vest can be crafted with:
Notes:
It takes 30 seconds to craft one Hide Vest.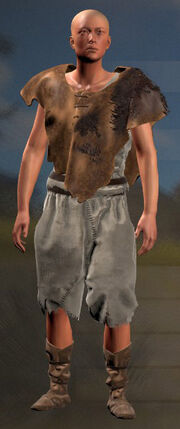 Ad blocker interference detected!
Wikia is a free-to-use site that makes money from advertising. We have a modified experience for viewers using ad blockers

Wikia is not accessible if you've made further modifications. Remove the custom ad blocker rule(s) and the page will load as expected.