This article has a Legacy counterpart.
Click here
to go to the article.

—Information accurate as of: build 904.83
The Holosight is a ranged weapon attachment which adds a holographic sight to the weapon it is mounted on. It helps make it easier to aim the weapon at a target.
To mount a weapon mod, simply open the inventory, select a weapon, and drag the weapon mod onto a weapon mod slot in the item panel. Weapon mods can be demounted by dragging the mounted mod off of the item and back into the inventory/storage.
To scope in with most guns, regardless of the mounted weapon mod(s), hold the right mouse button.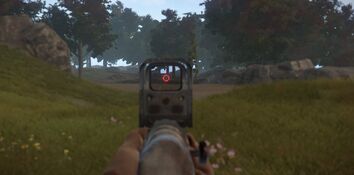 Crafting
Edit
The Holosight can be crafted with:
It takes 120 seconds to craft the Holosight.
There is some info on the Holosight in Devblog 77 of the official Rust website.