Metal Door

Type
Survival

Crafting

Craftable
Yes
Known by default
Yes
Ingredients

Description




Metal Doors were a craftable item in Legacy. They were primarily used to restrict the passage of unknown players into a building while allowing the creator (and other authorized players), free access. It was the second tier of doors, after Wood Doors, and was the strongest door in the game. It did not take melee damage. However, the door could be destroyed with 16 F1 Grenades, or 3 Explosive Charges (usually taking two due to Decay).
A Metal Door could be placed within a Metal or Wood Doorway.
Metal Doors required a Workbench to craft and costed 200 Metal Fragments.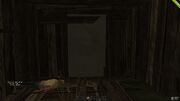 Ad blocker interference detected!
Wikia is a free-to-use site that makes money from advertising. We have a modified experience for viewers using ad blockers

Wikia is not accessible if you've made further modifications. Remove the custom ad blocker rule(s) and the page will load as expected.