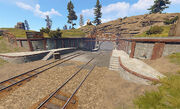 The Military Tunnels are a type of Monument that can be found on procedurally generated maps in Experimental Rust. Unlike the majority of other monuments, the Military Tunnels do not provide access to public utilities. Nonetheless, they remain quite popular due to the sheer amount of loot generated. The Military tunnels have a high amount of radiation so you'll need a hazmat.
The Military Tunnels are part of an area, comprised of an accessible, larger, main tunnel, which splits into two secondary, smaller ones, leading up to an underground military facility. There is a small manhole outside, which also provides an alternate entry point for the underground facility.
Leading up to the main tunnel entrance is a downward sloped ramp, on which a cut-off railroad track has been built.
Piled up abandoned cars in front of the entrance restrict direct vehicular access to the tunnels.
The Military Tunnels area also includes a single sheet metal storage shed as well as a bigger, sheet metal building, housing a control panel and electric generators.
The area itself is enclosed by a dirt road track, which loops back around.
Infrastructure
Edit
The Military Tunnels provides access to a Recycler that can be found inside the sheet metal shed.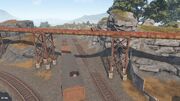 Loot spawns in the Military Tunnels area is quite varied and plentiful.
Outside, around the monument and its outskirts, including the dirt road track and cliffs, it is possible find regular loot Barrels and Food Crates.
Lodged in the cliffs and occasionally on certain plataues, one could usually encounter all Large Wooden Crate variants as well as Military Crates. This also applies to the train cars blocking the main tunnel entrance and the entire underground military facility.
Inside the sheet metal building only regular loot Barrels can be expected, whereas the storage shed spawns different Large Wooden Crate variants.
On top of the broken ventilation pipe outside, Medical Crates spawn roughly in the middle. The pipe is accessible by jumping from a nearby cliff ledge.
Ad blocker interference detected!
Wikia is a free-to-use site that makes money from advertising. We have a modified experience for viewers using ad blockers

Wikia is not accessible if you've made further modifications. Remove the custom ad blocker rule(s) and the page will load as expected.