Research Table Edit
Research Table
Research items here.

General

Shortname
research.table
Type
Items
Stacksize
1

Crafting

Craftable
Yes
Time To Craft
60 s

Ingredients
—Information accurate as of: build 904.83
The Research table is a new way for players to get blueprints other than unlocking with the XP System.
With the new system that was implemented on Devblog 123, blueprints are no longer permanent. Rather, each blueprint is consumed when its corresponding item is crafted.
When researching an item, a successful research will consume the item and create a certain amount of blueprints based on the item's rarity.
Each blueprint created can only be used once, and is consumed upon crafting the item (if you have the resources required to craft it).
It is also worth noting that items crafted from blueprints will have significantly less durability.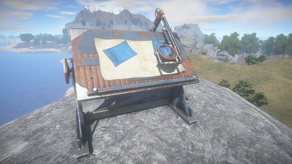 Crafting a Research Table takes 60 seconds and requires:
Researching Item
Edit
Researching an item takes 10 seconds and requires:
The item being researched
Blueprint Page(s) to increase the chances of success
Items that aren't repairable (like ammunition) are removed entirely if the research fails. Items that are repairable are reduced to 0 condition, and can be repaired
A successful research converts the item to blueprints, so you lose the original item
Regardless of whether you already have the crafting recipe or not, the chances are the same and you can still create them for another player to use
You have a 30% chance of getting a blueprint from it. Including Blueprint Pages when researching will boost the chances of successfully researching the item while consuming the pages
That chance is scaled based on the condition of the item
The chance of success is reduced every time you attempt to research that same exact item, so if you repair the broken item and try again, the chance of getting a blueprint is reduced.
If you find another item of the same type, that item will have 30%. So the success rate is bound to the item, not to the character
It takes 10 seconds to research
The blueprint(s) that are produced will be placed inside the research table
Ad blocker interference detected!
Wikia is a free-to-use site that makes money from advertising. We have a modified experience for viewers using ad blockers

Wikia is not accessible if you've made further modifications. Remove the custom ad blocker rule(s) and the page will load as expected.