Stone Hatchet

Type
Melee Weapon

Weapon Stats

Damage

Crafting

Craftable
Yes
Known by default
No
Ingredients

Description

It's a hatchet. And it's made of stone!




Can be used as a weapon or a tool for gathering materials. The stone hatchet gathers the same number of resources as the rock but hits slightly slower than the hatchet.
Obtaining
Edit
Cannot be looted, except from other players.
Can be crafted with:
There is currently a known error with the stone hatchet; along with the pickaxe, it appears as a metal hatchet when held and viewed by another player.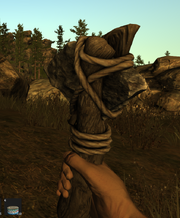 Ad blocker interference detected!
Wikia is a free-to-use site that makes money from advertising. We have a modified experience for viewers using ad blockers

Wikia is not accessible if you've made further modifications. Remove the custom ad blocker rule(s) and the page will load as expected.