Wood Ceiling

Type
Normal

Crafting

Craftable
Yes
Known by default
Yes
Ingredients

Description

A wooden ceiling.




Wood Ceiling are craftable, placeable items, though they may only be placed on top of 4 Wooden Pillars. They can also act as a floor for a second story. You can not place a pillar in the middle of a ceiling.
Note: Wooden Ceilings are currently not destructable, but they can disappear through decay.
Wooden Ceilings may be crafted with 6 Wood Planks, and takes 60 seconds to craft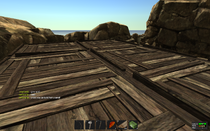 Ad blocker interference detected!
Wikia is a free-to-use site that makes money from advertising. We have a modified experience for viewers using ad blockers

Wikia is not accessible if you've made further modifications. Remove the custom ad blocker rule(s) and the page will load as expected.