—Information accurate as of: build 904.83
Wood Storage Box
Keep your things in this wooden storage box. Stores up to 12 items.

General

Shortname
box.wooden
Type
Items
Stacksize
1

Crafting

Craftable
Yes
Time To Craft
30 s

Ingredients

Wood Storage Boxes are craftable, placeable items that can store up to 12 item slots. They can be placed anywhere in the world and do not need a foundation or any other items to be placed before them. Although this is subject to change, there was a time when such boxes could be deployed within rocks, leaving only a sliver of the box visible.
Locks can be placed on the boxes. Wooden Storage Boxes are destructible, taking 20 hits with a Hatchet or 9 hits with a Pickaxe to destroy.
Crafting
Edit
The Wood Storage Box can be crafted with:
Notes:
It takes 30 seconds to craft one box.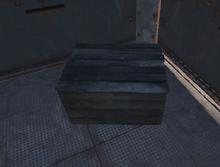 Ad blocker interference detected!
Wikia is a free-to-use site that makes money from advertising. We have a modified experience for viewers using ad blockers

Wikia is not accessible if you've made further modifications. Remove the custom ad blocker rule(s) and the page will load as expected.